Profile list page
The profile list table displays all your created profiles in your Octo Browser account. In the table, you can perform such operations as creating, editing, searching or transferring profiles.
The top left corner of the Profiles window displays the number of profiles you have and the total number of profiles your subscription has (for example, 351/1000). The green color indicates the number of active profiles at the moment. The active profile is the profile that is currently running.
To search in the list of profiles, enter part of the profile name in the search bar to filter the list. The search can be carried out simultaneously by the profile name and the selected tags.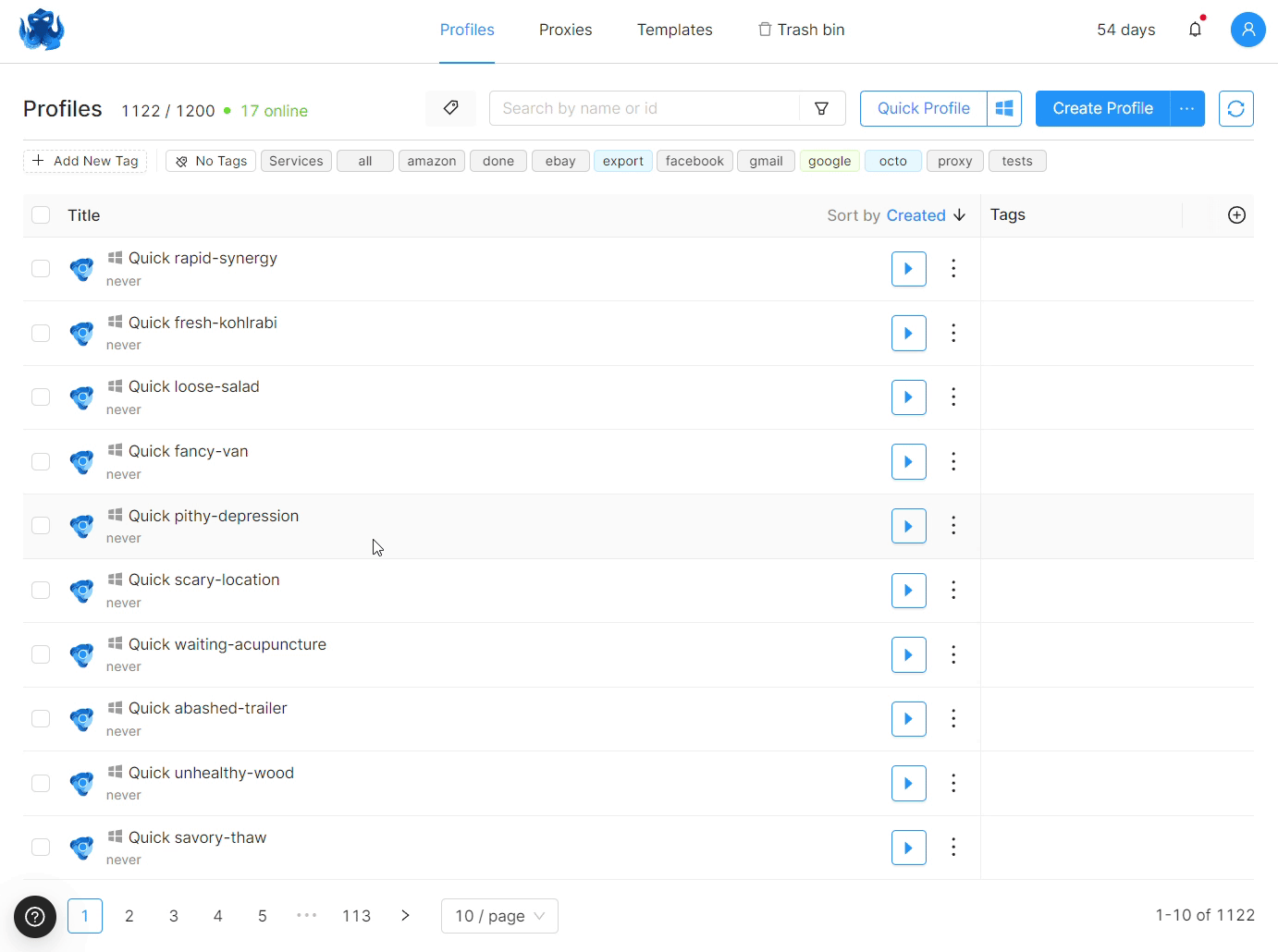 At the bottom of the list of profiles there are pages, by clicking on which you can find the profile you need. On one page, at the moment, from 10 to 100 profiles can be displayed, depending on the display settings you have set.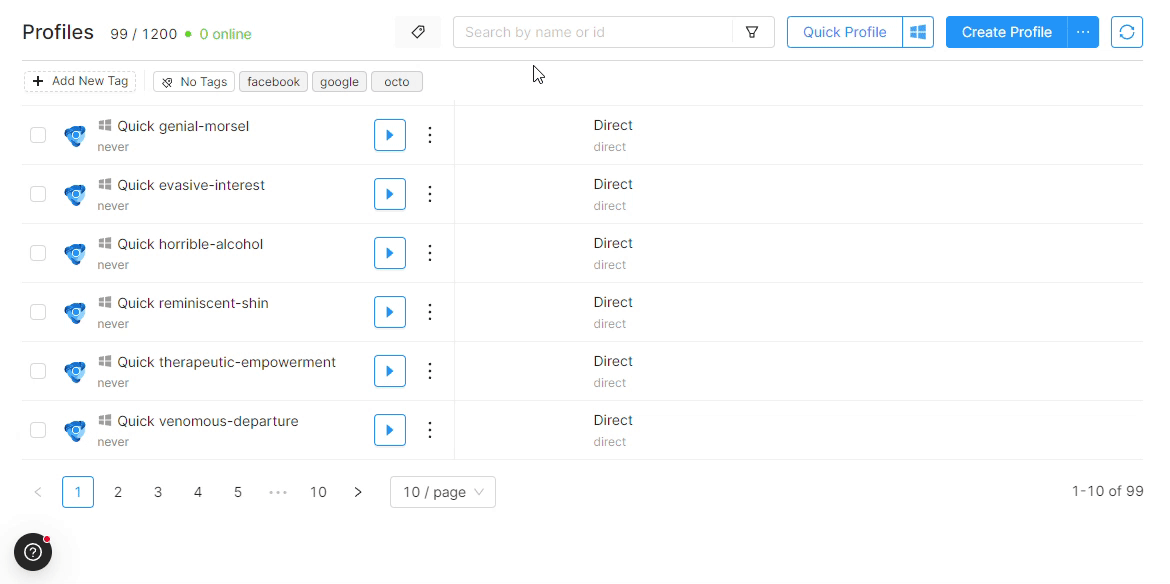 For the convenience of finding the desired profiles, sorting by name, date of creation and date of launch of the profile has been added. The arrows to the right of the sort menu allow you to update the information about the profiles on the page. At the bottom of the page, you can select the number of profiles to display per page.

Bulk actions in profile list​
If you need to bulk edit profiles in the list, select the required profiles. After selecting profiles, you will have an additional bulk editing menu where you can add or remove tags from selected profiles, set a proxy for selected profiles, transfer to another account, export or remove profiles from the list.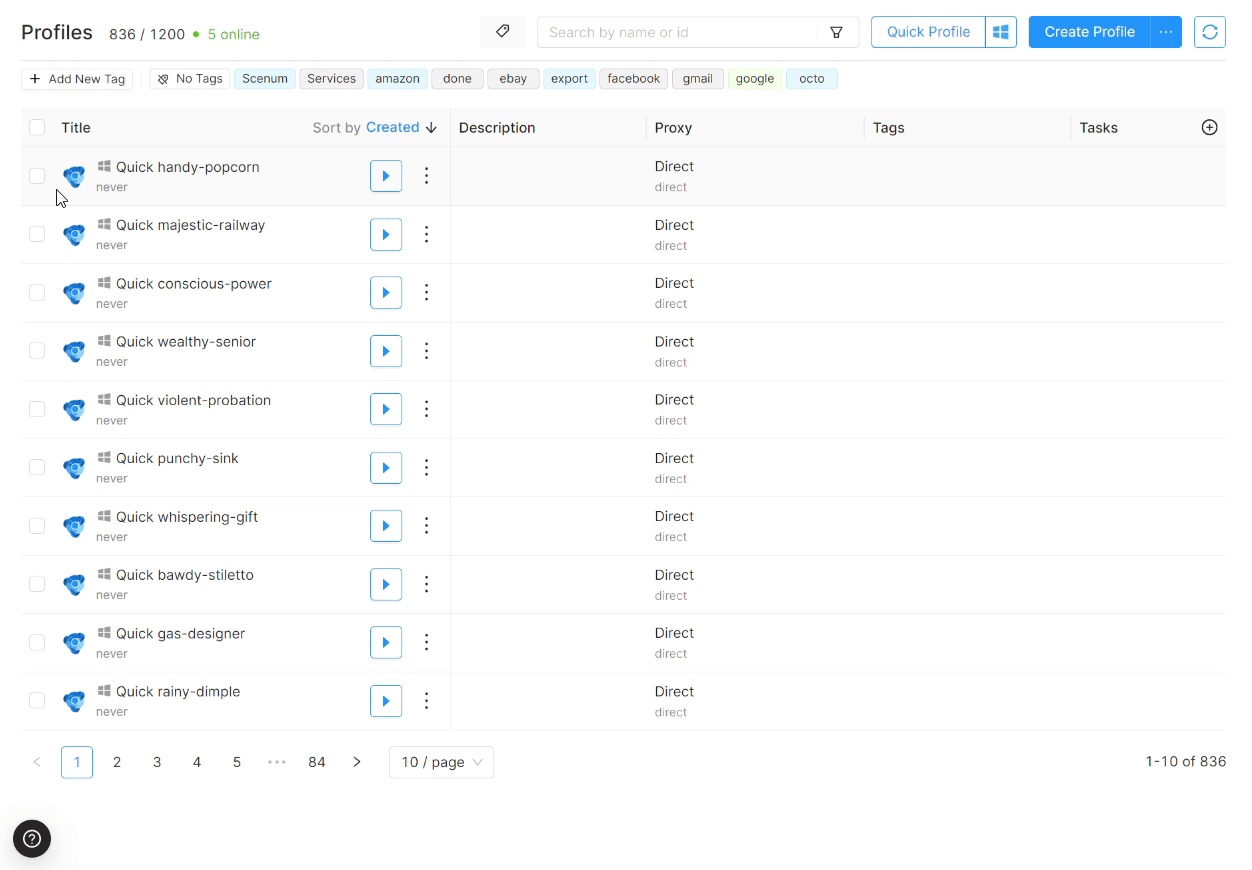 To highlight all profiles displayed in the list, check the box next to Name below the profile search box. Thus, all profiles on this page will be marked. To deselect selected profiles, click on the cross icon next to the Bulk Actions window.
Hotkeys​
Pages​
| Action | Hotkeys |
| --- | --- |
| Open the Profiles page | SHIFT + 1 |
| Open the New Profile page | SHIFT + 2 |
| Open the Settings page | SHIFT + 3 |
| Open the Proxy page | SHIFT + 4 |
| Open the Templates page | SHIFT + 5 |
| Open the New template page | SHIFT + 6 |
| Switch interface language | SHIFT + L |
Table​
| Action | Hotkeys |
| --- | --- |
| Update profiles | SHIFT + R |
| Select all profiles | SHIFT + A |
| Go to next page | SHIFT + X |
| Go to previous page | SHIFT + Z |
| Go to first page | SHIFT + C |
| Go to last page | SHIFT + V |
Profiles​
| Action | Hotkeys |
| --- | --- |
| Create Quick Profile | ALT + Q |
| Open tag editing window | ALT + A |
| Run selected profiles | ALT + W |
| Stop selected profiles | ALT + E |
| Delete selected profiles | ALT + D |
| Set proxy for selected profiles | ALT + R |
| Add tags for selected profiles | ALT + C |
| Delete tags for selected profiles | ALT + V |
| Transfer selected profiles | ALT + T |
| Export selected profiles | ALT + X |